Beauty brand Ultra-Luxe has been around for a while but I only just got to (finally!) try it recently. I opted for a professional facial rather than just haphazardly slathering some product on my face without knowing what the hell I was doing. My favorite esthetician EVER, Maya – at Petals Laser NYC gave me their "Eye-Mazing" facial and then gave me a rundown of the entire product line.
I purchased a 5 of my favorites and LET ME TELL YOU. MY SKIN MY LIFE MY SPIRITUALITY HAS CHANGED. Okay maybe nothing changed spiritually, but my skin feels like a baby's butt and kind of looks like one too (in the best way possible). This is my rundown of my top 5 Ultra Luxe products (and they're all under $90.00!!!).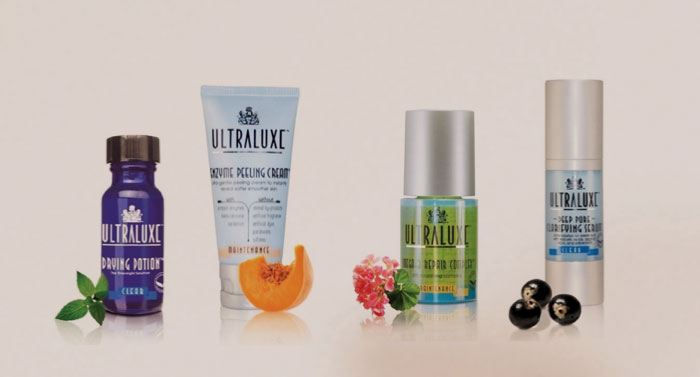 Ultra-Luxe BB Oil (Beauty Balm Oil) – Petals Price: $48.50
I'm in my mid-20s, and while I don't have to worry about having wrinkles yet (praise be) I definitely do think about preventative measures. This product's main ingredient is cranberry extract which improves elasticity (yay!) and reduces wrinkles/fine lines (double yay!). It's also the first ever BB Oil with the anti-aging ingredient Renovage, which increases cellular longevity, healing process, and repair. This means you'll glow HARD with less makeup the more you use the product. I noticed that my skin was instantly super hydrated, firmer, and super glowy, which is always fun. It should also be noted that while I don't have issues with scarring or discoloration- the Ultra-Luxe BB Oil covers that too!! The only downside I can think of for this product is that it's SPF free- BUT I've been using it at night to let the product really soak into my skin, so that's not really an issue.
Seaweed Liposome Gel – Petals Price $32.00
This might be one of my favorite products of the line (TBD). I have sensitive skin. My face gets super flush when I drink wine, I burn easily, and I'll sometimes get random irritations on my cheeks and chin. This product is perfect for that. Its lightweight, being that it's a serum, and the product is TIME RELEASED. How crazy is that?! That means that your skin will get the most of this antioxidant-packed product throughout the day. The gel is all natural, with products like Pure Seaweed, Lavender Extract, Tea Tree Extract, Tangerine Extract, Vitamins B5, C and E. The product is also protective against outside pollutants and free radicals- which is perfect for me. I live and work in the city, so no matter how often I clean, scrub, and add the product to my face- I always feel like some gross NYC Subway air is penetrating it.
Drying Potion – Petals Price $27.00
I feel like this god sent phenomenon of a product really doesn't really need an explanation so I'm going to keep this one short. IT DRIES OUT AND ELIMINATES PIMPLES OVERNIGHT. Like the entire line, it's made with all natural products. The spot treatment drying potion contains Dead Sea sulfur, and lavender, chamomile, sage and peppermint extracts. Just go buy it- you can thank me later.
These last two are reviews from my mom- whom I gifted these anti-aging products to. They have higher potency of ingredients which wouldn't work so great with my skin- but excellent with more mature skin for anti-aging focused purposes.
Anti-Aging Rejuvenating Active Moisturizer – Petals Price $72.00
Moms review:  "I'm calling [friend] and telling her to buy all of these. I'm freakin' soft!! Look, feel!!!" *grabs my hand and it puts it on her face* "You feel that???"
Actual scientific facts: The product is meant to hydrate, plump, and diminish fine lines/wrinkles as an acid blend. It's made with a TON of amazing oils and nutrients. Just some of them: Lemon peel extract, Japanese green tea extract, seaweed extract, vitamins A/C/E, and glycolic acid.
Micro Venom Eye Lift Complex – $84.00
Mom's review "I'm not putting snake venom in my eye- get out of here"
(After explaining that it's not in the eye- it's on the skin around the eye and the snake venom is not actually that but it's naturally made from apple extract- she tried it)
Mom's review part two "Oh!!! Okay this is great!"
Actual scientific facts: The product is meant to give your eyes a lift with a richly potent anti-aging. Micro Venom formula is wrinkle-smoothing, and made of Ultra-Luxe's amazing Synthetic Snake Venom created from rejuvenating apple stem cells. It reduces fine lines and wrinkles by 52%; Lightens and brightens skin tone. Just some of the amazing ingredients in here are grape seed oil, shea butter, and retinol.
OVERALL CONSENSUS: I LOVE THIS PRODUCT LINE.  To learn more about it, you can check out their website or call Petals Laser Lounge and Spa in New York City.