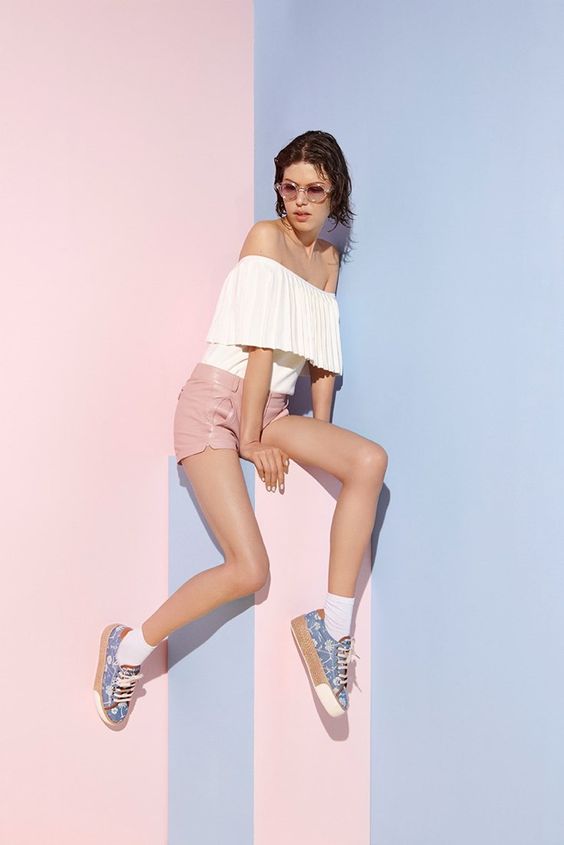 So, I had some spider veins pretty much all of my adult life. These veins can come out for a number of reasons, some being hereditary, hormones, and often from standing all of the time – go figure! I'm not sure why I had mine, but I didn't care. I just wanted to get rid of them.
I had heard about laser vein removal before, but it sounded scary and I'm a baby when it comes to any sort of pain. I didn't even bother looking into it. Then, a co-worker of mine told me that she got hers done. I asked a few questions and then called up Petals Laser Lounge myself to book a free consultation to see what I can do about my own.
The first thing I learned was that spider veins and varicose veins form from the veins in our legs being damaged. In healthy veins, valves in the vein push blood in one direction — towards the heart. When the valves get weaker, some blood flows backward and accumulates in the vein. The extra blood flowing back into the vein puts pressure on the walls of the vein and leaves us with the bulge that we see.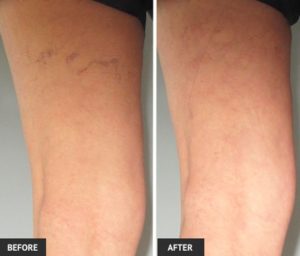 Now that I knew what the deal with my veins was, I wanted to look more into what this laser procedure was all about. First of all, the treatment was super easy and quick (Yes – I got my treatment done on the spot, immediately after my consult!) The laser used at Petals is the Elite+ laser. The 1064nm Nd:YAG. The particular wavelength that this laser uses is great for treating red, blue and purple spider veins. The laser zaps the veins, causing them to retreat from the skin's surface. The result is smoother, clearer, and more beautiful-looking skin. The beauty of this treatment is that it is noninvasive, unlike other vein treatments that include surgery or even a small incision in the leg. There's no downtime, and because it's a quick procedure- you can come in and out on your lunch break!
The pain levels of the laser vein removal treatment were my greatest fear in walking in, but it barely hurt! It felt similar to laser hair removal, but "deeper" into my skin (this laser machine actually does laser hair removal AND relieves hyperpigmentation too!) I saw results IMMEDIATELY. I couldn't believe it! My technician told me that most people see immediate results, but patients usually need a few treatments to achieve their full desired results.
Check out my immediate before and after results!!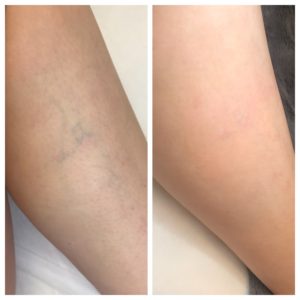 Overall: This treatment was pretty awesome. Seeing immediate results is pretty awesome. I do wish that this was a one and done treatment, but for not having any invasive procedure I'll let it slide! The pain levels are pretty low compared to what I was expecting by having a laser shoot at my veins, and it was all done within a half hour. My technician explained everything to me and talked me through the whole process – plus, I got this delicious coconut water! 10/10 would continue to get this treatment done at Petals NYC again.